Solar Farm Installation for Industrial Solutions
SolarNRG is your trusted partner in providing industrial solar farms to help reduce your electricity costs. Our mission is to revolutionize the industrial sector by supplying renewable energy sources through large-scale solar panel farm installation. Backed by foreign investors, we have already begun our work in democratizing solar power plants in the Philippines.
Traditional fossil fuel power plants will increase your contribution to air and environmental pollution while exposing your business to health risks and liabilities. With our solar farm installations, you won't need to worry about the adverse effects of harnessing energy from conventional plants.
We even provide a 15 to 20-year power supply agreement (PSA) for large commercial and industrial applications. It means less worrying about the cost of goods, installation, and connection to the grid so that your company can focus its budget on core business needs at a fraction of the price.
SolarNRG takes on the co-developer role with the engineering, procurement, and construction (EPC). It also includes the operation and maintenance of the solar plant. Our experts will handle everything for you, from installing your solar farm in the Philippines down to its upkeep.
Improve Large-Scale Operations
We can provide you with an energy source that is safe, reliable, and cost-effective. Contrary to past market trends, solar power technology has now become significantly more affordable. Some significant advantages of installing an embedded solar farm for your industrial co-operative are:
Environment-friendly—making the land safe for animals and plants to live in
Income tax holiday for seven years
Duty-free importation of equipment, machinery, and other materials
Corporate tax rate of 10% on its net taxable income after seven years of income tax holiday
Zero VAT rate on the sale of fuel or power generated from renewable energy (RE) sources, including the purchase of the local supply of goods, properties, and services needed in the development, construction, and installation of plant facility, including the exploration and development of RE resources and its conversion to power
Exemption from universal charge
Alongside these benefits, you can avoid all the drawbacks that come with getting your power from traditional coal-fired plants, such as:
Chemical emissions that can harm people and the environment
Non-renewable coals that only add air pollution
The high cost of transporting coal to power plants
The expensive fees of maintenance and repairs
Renewable and sustainable energy is the future. Be part of our mission to shape a greener earth and enjoy the incentives that come with it.
Generate Clean Energy Through a Solar Photovoltaic Power Plant
Make the big switch to a greener source of energy and take part in helping save the environment. Electricity is used to power everything—from homes in rural areas to large industrial parks. Large-scale solar power plants can answer the need to supply electricity. Electrical cooperatives could provide energy solutions to those that need them, and we're here to answer that call.
We have the resources to build a solar farm installation to make sure industrial energy needs are met. With a renewable and stable energy source powering up facilities, operations can run smoothly without worrying about power interruptions.
With our solar panels built to last for years, your investment is guaranteed to go a long way, along with affordable maintenance costs to help add more life to the system.
Not convinced yet? Here are more reasons to switch to solar:
Say goodbye to dependence on materials that are harmful to the environment—90% of the materials used on a solar panel can be recycled.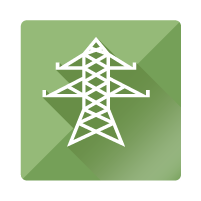 LOWER DEPENDENCY
ON FOSSIL FUELS
Solar farms do not use chemicals or fossil fuels to generate electricity. This means no harmful gases are released into the environment.
You avoid burning 8,000 lbs of coal with just one solar panel.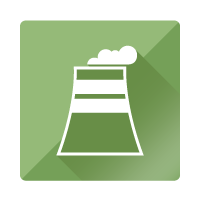 Get the chance to earn from the surplus energy that you export back to your grid. That adds up to more savings!