Solar energy panels are a significant investment. However, the returns are even more substantial, providing long-term benefits such as energy cost savings. Given that solar panels are valuable assets, you must get a reliable installer to get your money's worth and enjoy a stress-free installation experience.
If you plan to install solar panels in your business, this blog post will provide tips on how to choose a solar company.
How to Choose a Solar Panel Installer
Choosing the right solar panel installer is crucial for a successful and reliable solar energy system. Follow these tips to find the right solar company for your business.
1. Review their previous projects and clients
Like any industry, many will claim they're the best in what they do. When looking for the top solar installer, it can be challenging to separate who's professionally qualified from those only looking to profit from the growing popularity of solar power. An effective way to prove a solar installer's competence is to look into their previous projects.
Researching their portfolio and identifying similar installations to what you want can help you assess the company's craftsmanship, attention to detail, and overall aesthetic. You may also reach out to their past or existing clients for testimonials and feedback, giving you valuable insights regarding their brand of customer service and professionalism.
2. Research their reputation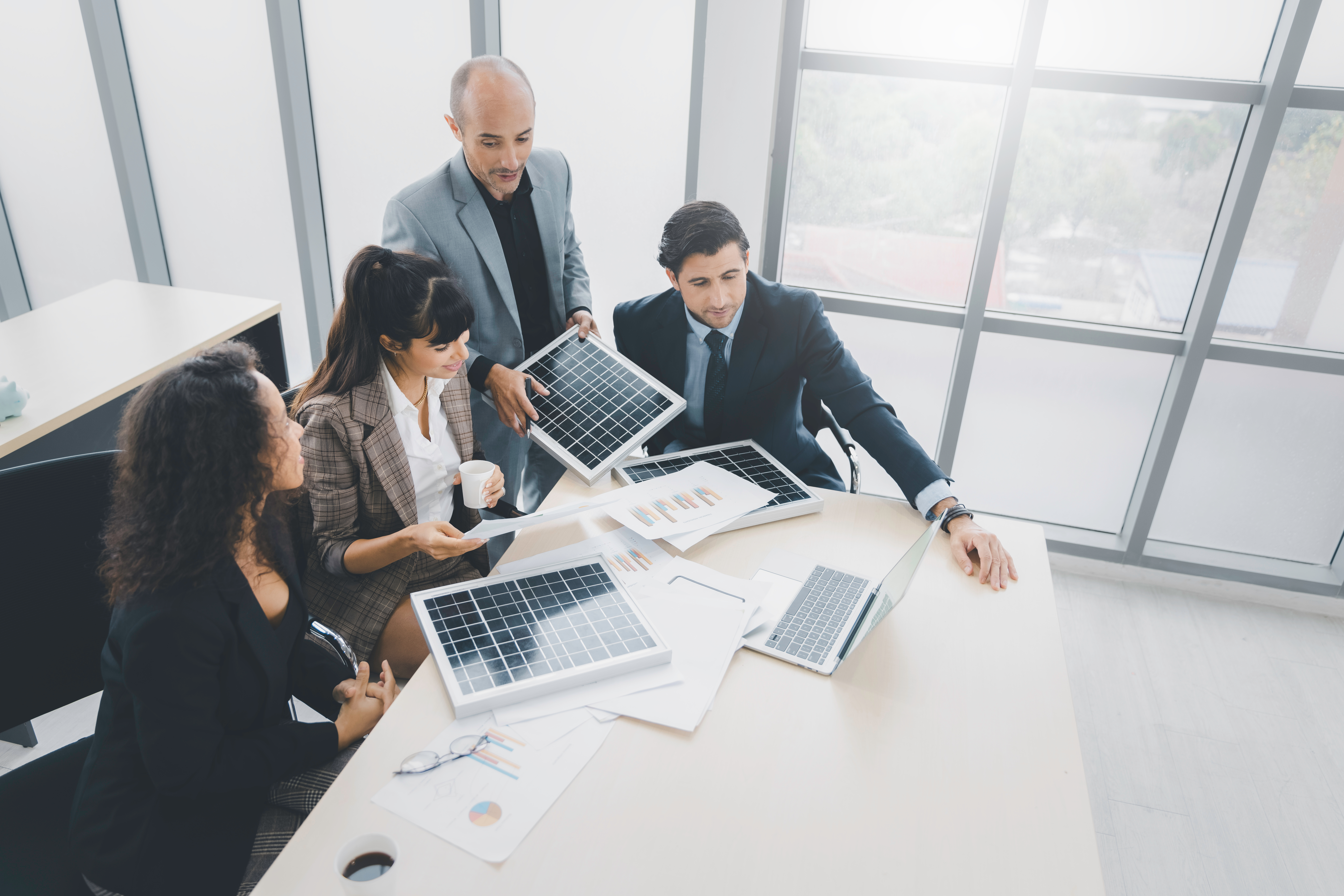 Before entrusting your solar panel installation to a particular company, research how their peers and customers perceive them as providers.
You may search for online reviews or ratings from trusted sources to understand better how they operate as an organization. This information will give you an idea of how well-regarded the installer is and whether they have a history of delivering on their promises.
Also, you must pay attention to any negative feedback or complaints and consider how the company addressed and resolved such issues. A reputable installer will have a track record built on trust and reliability.
3. Assess the quality of products and installation technique
To ensure you get high-quality products, inquire about the brands and models the company uses for its solar panels. High-quality panels will provide better energy production and longevity, ensuring a more significant return on investment.
In addition, you need to inquire about their installation techniques, including using durable mounting systems and proper wiring practices. Credible solar panel installers will find ways to maximize efficiency and minimize any potential problems.
4. Expect them to come to your property
Expert solar installers will evaluate your property on-site before providing a quote or recommending a specific system size. Reputable installers typically assess factors such as the available roof space, shading, and the orientation of your property.
Property visits before installation are crucial for the installer to gather essential information when designing a solar panel system tailored to your needs and optimizing its performance. If a solar panel provider doesn't recommend a property evaluation, you likely won't have the best installation experience and should look for another company.
5. Ask about financing options
As mentioned, solar panels can be costly in the beginning. The best solar companies offer financing options such as leases or loans, allowing you to pay off the installation without looking for funding elsewhere.
With different repayment options, you can determine a suitable financial arrangement that aligns with your budget and allows you to enjoy the benefits of solar energy without undue financial strain.
6. Inquire about warranties
Solar panels are long-term investments, and finding an installer who stands by their work and offers warranties and post-installation care ensures the longevity of your system. A reliable installer will provide comprehensive warranties covering solar panels, installation labor, and potential issues.
This commitment to quality and customer satisfaction ensures peace of mind and protects your investment over the system's lifespan.
7. Compare multiple quotations
When buying any product, most want the best possible value for their money. However, there are a lot more factors to consider than only getting the lowest price when securing the services of a solar panel installer.
First, you need to get multiple quotations for comparison and assess their price points, as some may have lower rates due to inferior products or services. As such, always request a comprehensive breakdown of each item listed in their quotations.
It's also ideal to stay away from installers who offer packages. Some organizations create "one size fits all" deals to make the most money, even if it's not the correct offer or installation setup for a home or business. Instead, look for solar panel installers who offer customizable services to ensure you only pay for what you need.
A Bright Step Toward Energy Independence and Cost Savings
Solar panels are great investments that allow you to save money on utility costs and help the environment. With the device gaining more attention, solar companies will look to push their products to the market. Unfortunately, not all providers can give you excellent service.
It's up to you to identify which solar panel installer gives you the right price, unparalleled service, and quality products. For solar panels for your business, there's no better provider than SolarNRG. As one of the most trusted installers of solar panels in the Philippines, we enable households and firms to utilize sustainable energy by delivering exceptional service.
For further inquiries regarding our services, contact us today!